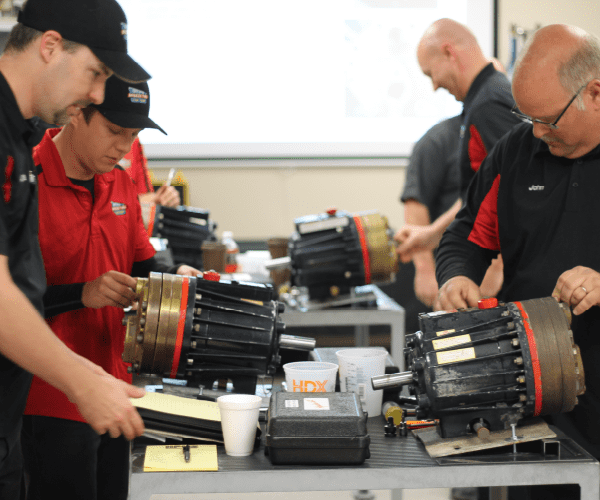 Helping Employees Feel at Home
Breeze Thru Car Wash offers employees unique benefits, including housing and training
8 minute Read
By Tom Gresham
When Richard Killian moved to Colorado and began work as the site manager of a Breeze Thru Car Wash, the local housing market caused him some initial challenges. A scarcity of affordable housing meant Killian had to move in with roommates, a situation he said was not ideal for someone in his mid-30s. However, in 2021 Breeze Thru began to offer employees the ability to rent new apartments it had built, and when the opportunity to move into a new unit emerged, Killian jumped at the chance.
"It changed everything for me," Killian said. "It gave me an opportunity to reestablish myself and get a foothold in my relocation to the area. It was also a way of Breeze Thru showing that they actually care about their employees as people – not just as people that come to work for them."
Killian's experience is one that Breeze Thru, which has 11 locations in Wyoming and northern Colorado, aims to create for its employees through a variety of offerings designed to bolster both their professional and personal lives. Wade Keith, brand manager for Breeze Thru, said the company is dedicated to setting up their workers for success and long, satisfying working lives.
"We want to prepare them for whatever job that they may have in the future," Keith said. "We'd love for them all to stay with Breeze Thru for their entire careers, but we know that's not realistic. However, we want to give them the skillset and the tools to be able to go on to any job and be able to succeed at it. For us, the driving factor is we want to be known for developing people in their personal and professional lives."
That investment in employees' growth stems from a mindset that helping people achieve success is the foundation for any success that Breeze Thru has, said Jonathan Comyn, director of training.
"We see ourselves as a training company that happens to wash cars, not a car wash company that happens to train people," Comyn said. "So, using that mindset of being a training and learning development company, there are a lot of resources that we can put into developing our site managers and our staff on the front line with skills to help prepare them for their future. It's part of our vision as a company."
An Emerging Housing Option
Many of Breeze Thru's locations are in communities where the cost of housing is strikingly high, Keith said. The company wanted to explore how they could ease the strain housing costs placed on their employees and help them meet one of their most pressing daily needs. The company built 10 single-bedroom apartments in 2020 for its first foray into employee housing.
Apartments are fully furnished, and Keith said rent is far below market rate. Residents do not have to put down a security deposit. Each month that an employee pays rent, they receive credit that can go toward a security deposit if they move on to a different rental. According to Killian, Breeze Thru pays for utilities except for electricity and internet.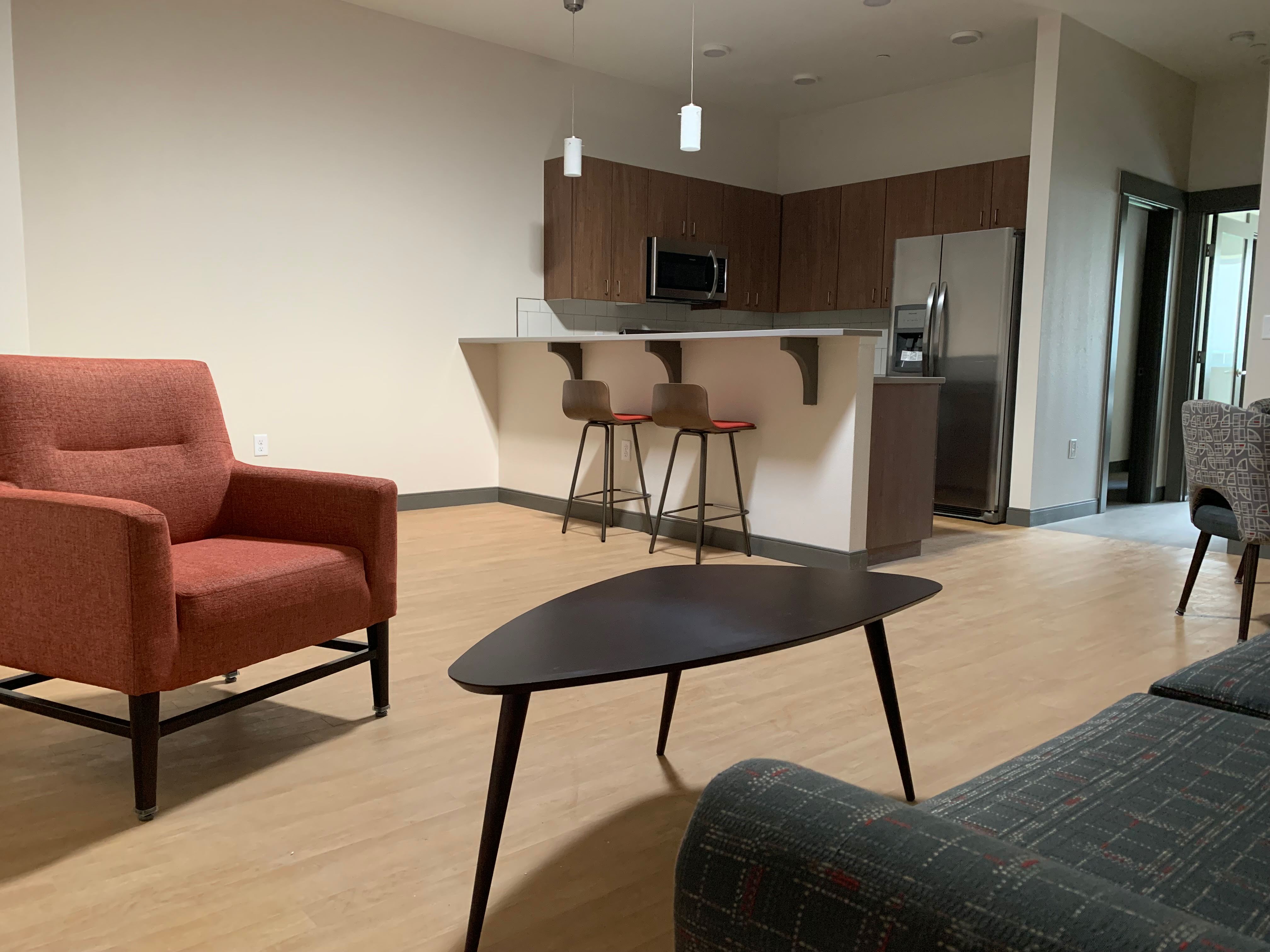 "It's been significantly cheaper," Killian said. "I pay less than what I was paying with roommates. I'm still in the same area, it's closer to work and it gives me a better opportunity to manage my Breeze Thru site and be able to do my job better."
For the company, the housing represents an asset that generates revenue but one that they do not need to be profitable – they seek to break even on costs while providing an invaluable and unique benefit to employees that improves their lives and their performance.
Killian said the access to affordable housing makes him and others more successful at their jobs.
"It creates a better quality of work when your employees don't have to worry about being able to support themselves and pay their bills every month and wonder, 'Where am I going to live?'" Killian said. "It contributes to a better experience and better performance, as well as a better quality of life outside of work."
For Killian and other employees who take advantage of the program, "it definitely creates a high level of brand loyalty," he said.
"I'm a firm believer in paying it forward and to have that opportunity offered to me, it motivates me to offer anything that I'm able to do for my employees as a site manager and to go above and beyond for them," Killian said. "It motivates me to be a part of their growth and also to help offer that to the next person down the line."
An Ongoing Emphasis on Training
Beyond housing, Breeze Thru prioritizes its employees' growth through a robust training program. The company demonstrates the priority it places on training by offering pay increases when employees meet training and development goals. Each employee receives a raise after three months when they complete their basic training, and more raises follow at various milestones of their employment.
Killian said the practice pushes workers to learn and grow and "to come to us with questions when they don't understand something. They want to make sure they can get to that next achievement, so they get their raise."
While Breeze Thru has long provided structured training to its employees, the company in recent years decided it wanted to elevate its leadership development offerings as well. Breeze Thru made a commitment early in 2021 to build a management accreditation program. The company developed a training curriculum and will start its first class in early 2022. Breeze Thru expects to add 10 to 12 candidates to the program every six months through an application process.
Keith pointed to the renowned Enterprise Rent-A-Car management training program, which he completed, as a model for Breeze Thru's program. Keith said that the car wash industry has gradually become a field that more and more people are seeking out for long-term management careers. The management accreditation program serves as a response to that surge in interest and a way to attract more talent to the Breeze Thru brand.
"We see an opportunity for us as a company to do a management apprenticeship for employees over two-year periods, giving them everything needed to be successful in the car wash industry, but also be successful as a manager or leader, whether they stay with Breeze Thru Car Wash or they transition into another industry," Comyn said. "They will be able to say, 'I've got this management accreditation with me.' It's all part of making sure our people grow and build up their marketable skills."
The Challenge and the Payoff
For Breeze Thru to maintain its commitment to employee training and development, leadership cannot waver when that dedication leads to staff challenges, Comyn said. For instance, management training requires many managers to be offsite for long stretches, unavailable to take on their customary responsibilities. The company must also accept the possibility that it will invest time and resources to build up someone who will take their skills to a different employer that will receive the benefit of Breeze Thru's investment.
As part of that commitment, Comyn said, Breeze Thru must ensure training efforts are aligned with the company's culture – and that the company lives up to the ideals that it is teaching in training.
"We can train people for hours and hours, give them management, leadership skills, coaching skills, all the things that they need to be successful in their role, but if we don't, from top to bottom at the company, adhere to the execution around those things, ensure consistency and application of the skills that they're learning, and be great mentors and coaches, then the training goes right out the wayside," Comyn said.
Still, that pressure is a good thing, he said.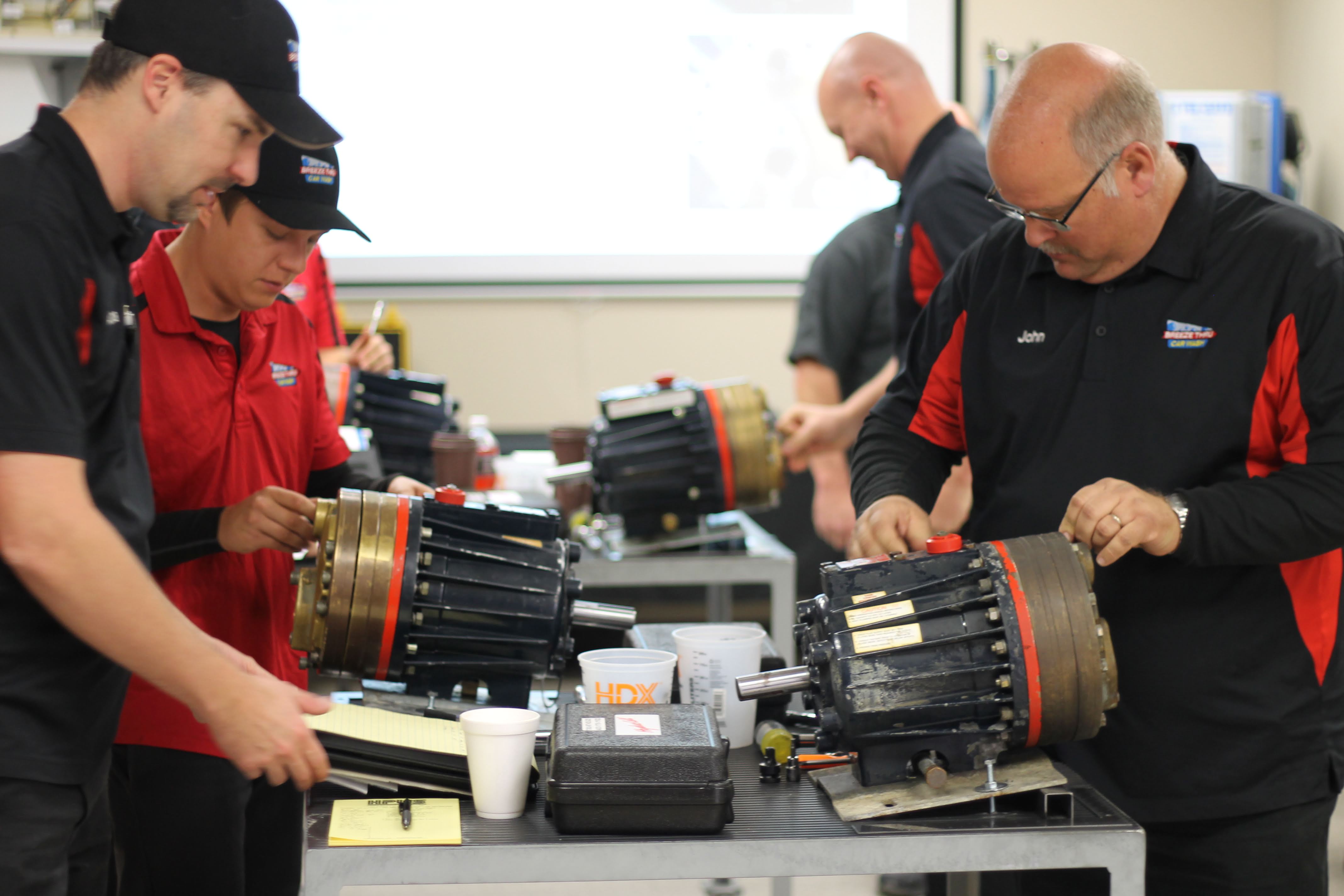 "As we build the skills, knowledge and abilities into the team, it will ultimately always change our culture for the better," Comyn said.
An emphasis on training does create more work on the site level, Killian said, but that work leads to improved performance. It also creates a level of accountability to make sure that team members are receiving adequate attention and that the checks and balances are in place to make sure they are being taught the right way.
"I would encourage people to realize that as much as it does take from your bottom line as a company, the investment pays off in how our customers get treated and it pays off in how our people feel when they come to work," Keith said. "You don't see people being late to work or not showing up. They're more respectful of our time and investment. There's an ROI there, and some of it's intangible but a lot of it is tangible."
Killian came to Breeze Thru with management experience in information technology but not in the car wash field. So far in his tenure, he's surprised at how much he has learned and grown as a leader and team member.
"Breeze Thru has done an amazing job of developing me as a manager to understand the car wash aspect of things and to provide me with management skills that I was kind of lacking that I didn't recognize that I was lacking," Killian said. "They've allowed me to fail and learn from those failures and grow. I never considered car washing is where I would end up, but I definitely love this company and I see the direction that they're headed. And I love the way that they develop us as employees and care about us and our futures. That's why it's definitely where I plan on staying."
Come for the Pay, Stay for the Perks
For all the value that its benefits can provide for employees, Keith said Breeze Thru does not lead with benefits when marketing job opportunities for frontline workers at the company. In today's market, he said, pay is the top priority for those workers. Keith said that Breeze Thru offers higher starting salaries than other similar businesses in their region. New frontline employees begin at $17 per hour.
"We want to get them in here so they can see what it's like," Keith said. "We're leading with pay to get them in here."
Still, companies that offer unique benefits have an advantage in today's competitive job market. Keith said a strong collection of traditional benefits, such as health insurance and a 401(k) program, can get overlooked in a climate where those benefits increasingly are expected. However, an unusual benefit such as housing or management training can help a company stand out from others whose pay and benefits otherwise look similar.
Keith said Breeze Thru ultimately recruits people with the promise of higher pay but keeps them with the unique benefits and culture.
"They'll come in the door with the money, but it's when they get seated and see who we are as a company and they start to see the investments that we make in them that they start to see how working here helps them as a person," Keith said. "That helps us retain those people for the long term."
Tom Gresham is a freelance writer who has covered a range of B2B topics for more than 10 years.